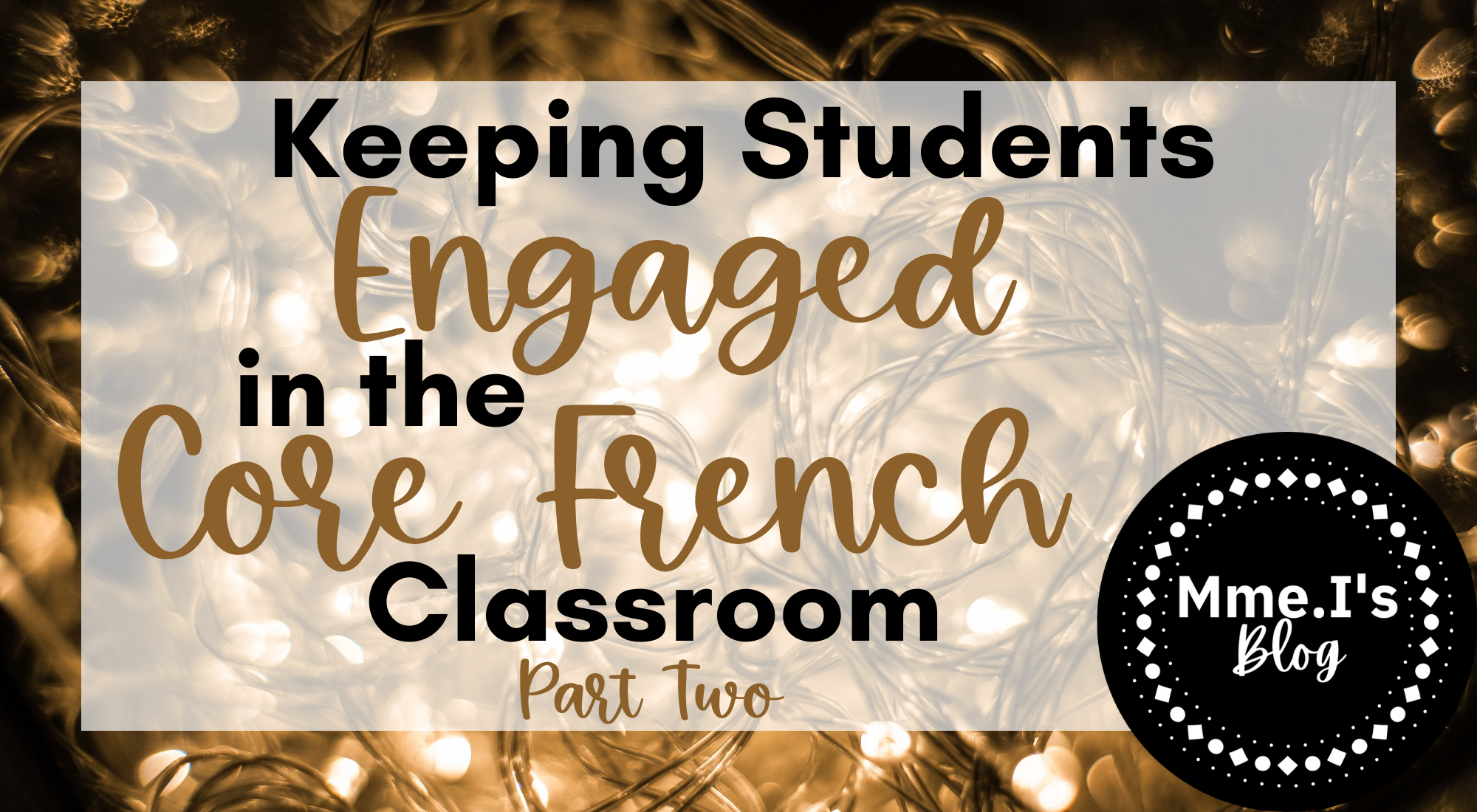 Thanks for coming back for Part 2 of this series.
Last week I gave you 4 strategies to help you build engagement in your Core French classroom. A lot of those strategies were about building mindset and setting the stage for success. Today we are looking at 5 practical things you can do to help keep your students engaged.
Don't teach Core French? A lot of these strategies can be applied to any classroom really, and I'm sure you're probably already doing many of them, if not all.
So let's jump into the strategies I have for you today.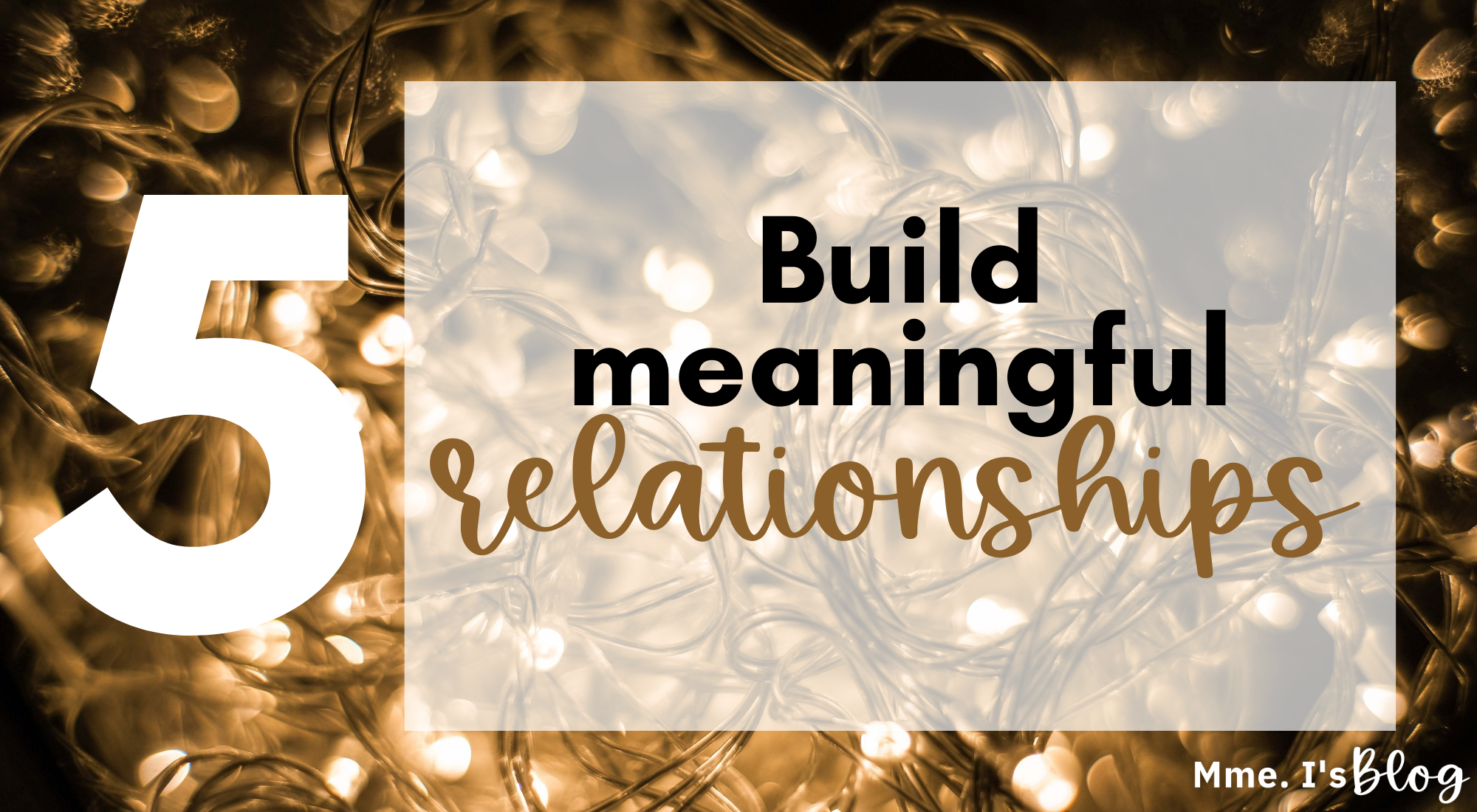 Strategy # 5: Build meaningful relationships.
When you teach so many classes of Core French, it may seem impossible to get to know your students and build meaningful relationships. And truthfully, it often is.
Every year I have upwards of 150 students. Sadly, I don't get to see them for more than an hour in the day, and even then, I don't see them every day. How can you get to know your students and build meaningful relationships when your time with them is so short?
Here are some things I try to incorporate in my classroom:
At the beginning of the year, I spend quite some time getting to know my students. We play all kinds of getting to know you games and do a lot of activities that require students to share something about themselves.

I like to give students a Getting to Know You Survey at the beginning of each year. I ask them about their home lives, their passions, their learning styles and preferences, and so much more. You can check out the survey I like to use here. It does take some time to go through all their responses, but it is so worth it!

I make sure that the door to communication is open to my students. I make sure that they feel loved and welcomed and know that they can come to me whenever they need something. Even if they don't come to me, at least they know of at least one more adult in the building (and in their lives) that cares about them.

Connecting with students through extracurriculars is a great way to get to know your students better.

Plan assignments and activities that get students talking about themselves.

I communicate frequently with homeroom teachers. I ask them to keep me in the loop in regards to anything I should know, including if there is a delicate situation at home that I should be aware of. This informs my teaching and makes me a better teacher.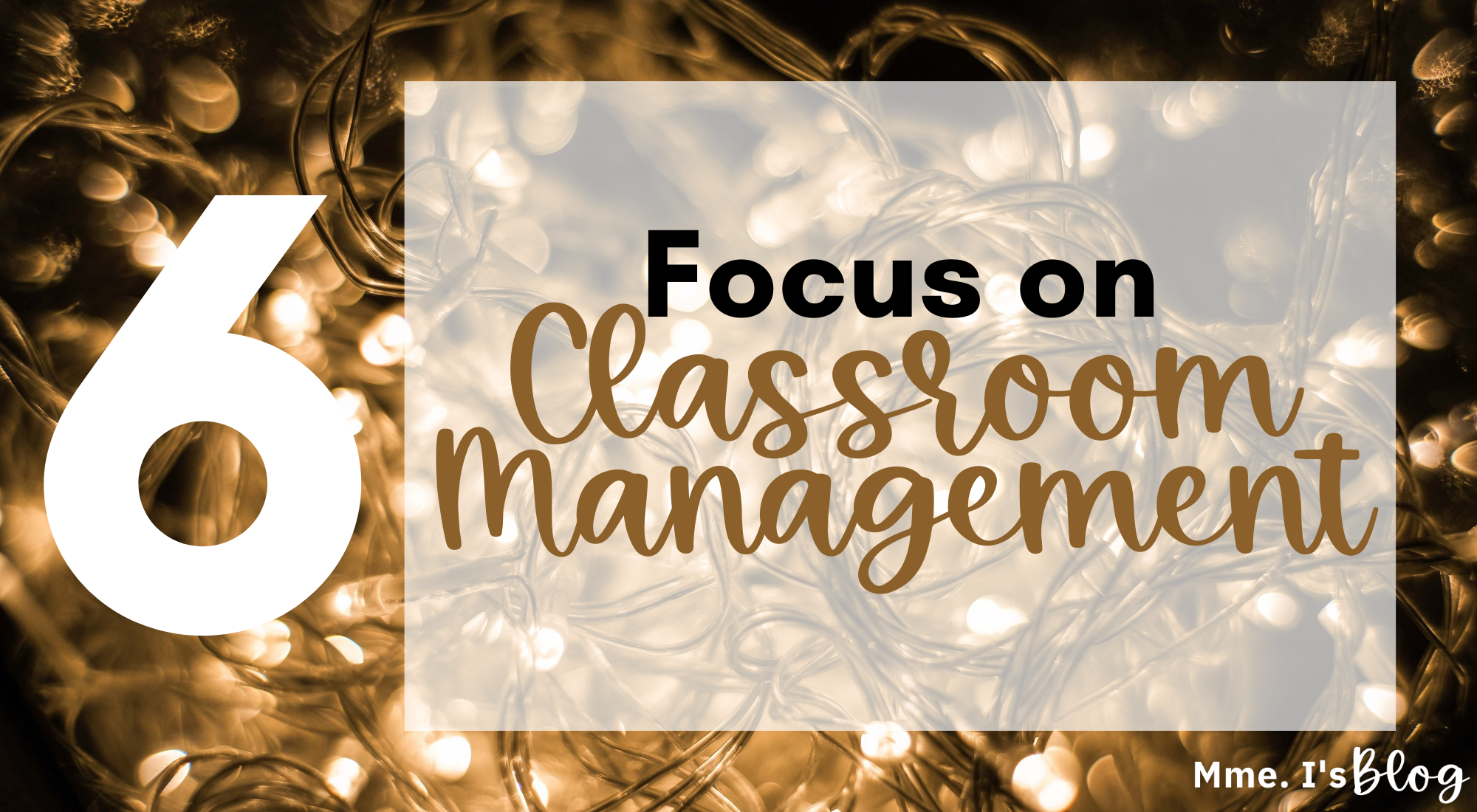 Strategy # 6: Focus on Classroom Management.
Although it may not seem like it, a big reason why getting to know your students is so important is that it helps with classroom management. As a matter of fact, most of the strategies I have shared with you thus far help our classes run more smoothly and can help you with classroom management.
The sooner you find a classroom management strategy that works for you and your students, the sooner you will be off to a great year. Without an intentional and consistent focus on classroom management, you may find yourself struggling.
What does classroom management look like? It varies from class to class. But it includes things like:
Will I use a seating plan?

How will we co-construct classroom expectations?

What routines and practices will I use?

What will students do when they are done with their assigned work?

How will I deal with disruptions?

How will I reward positive behaviour?

How will I document everything?

What strategies will I use to keep parents in the loop?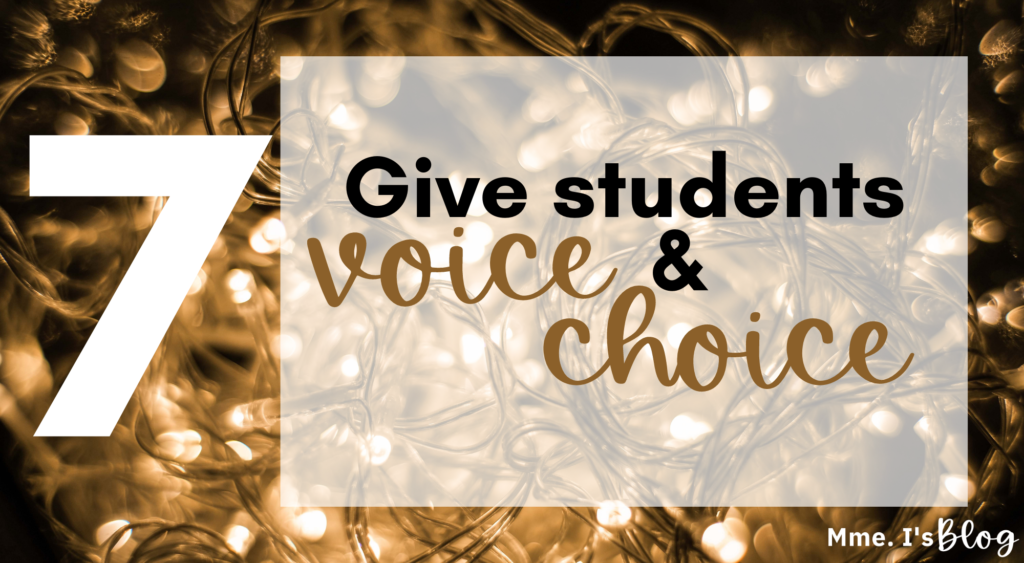 Strategy # 7: Give students a voice and some choice.
Nothing is worse than coming to class and being forced to do something you don't want to do. Students should be given a voice in your classroom and they should be allowed to make choices for themselves.
We know that this is important because every child learns differently and each child has their own strengths, weaknesses and preferences. Remember Bloom's Taxonomy? We want our students to be able to use both higher and lower order thinking skills in the classroom. So give your students a variety of choices to pick from, and let them decide what works for them.
So what exactly does giving students voice and choice look like?
In my classroom, at the beginning of each year, as a part of our getting to know you activities, I ask my students about which topics of study interest them in French class. Although it is easier to just prepare your Long Range Plans and all your units at once and then reuse content year after year, we are doing our students a disservice when we are not allowing them to have a voice in choosing what they will learn about over the course of the year. And truly, it gets boring for us as educators when we are teaching the same content again and again, year after year.
Another way I like to give my students choice is by allowing them to complete activities and assignments of their choice using Choice Boards. This means, I will come up with a choice of 6-9 assignments that the students can pick from. Based on their personal preferences and likes and dislikes, students can choose how they would like to demonstrate their understanding and present their work to me. Sometimes we even co-construct the choice board so that students can have even more personalized options.
Interested in checking out some of my choice boards? Check them out here.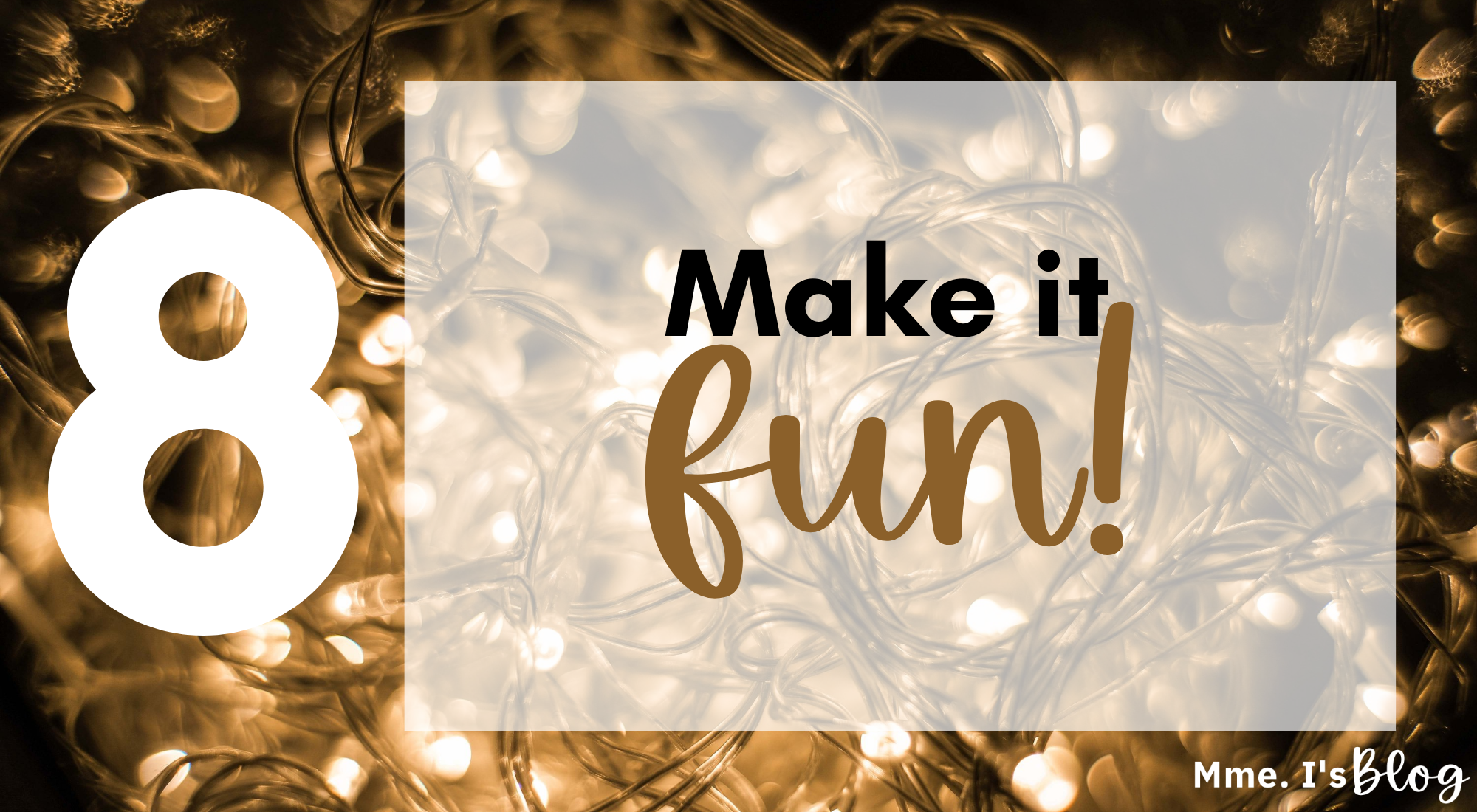 Strategy # 8: Make it fun!
When you teach a subject that a lot of students are not interested in, you need student buy-in. Often, the easiest way of getting it is by making things fun.
How can you make things fun? There are so many things you can do.
Instead of doing a boring worksheet, maybe try a fun game that has students reviewing similar concepts. There are so many different games you can try. The easiest games include using word searches, crossword puzzles, playing hangman, or the fly swatter game. Some of my favourite activities include using digital word searches like these. You can check out other game ideas here. Depending on what you're teaching, you can change up the games you use. For example when we are learning vocabulary, the games above are great. When we are reviewing something, one of my favourite games to play with students is dividing the class into two, having one student from each team come to the board. Divide the board in half so each person has their own space to work on. And then I give the students a prompt. They listen to the prompt and write their response on the board. The first team to get it correct, gets the point. My middle school students love this game.
Apart from games, there is more that we can do. Watch some French cartoons or a show or movie. Instead of working to the bell, give students a chance to have a break and maybe even just chat. Let students enjoy being in your classroom. You will see your buy-in increase dramatically.
For the past two years I have been teaching online. I absolutely love using sites like Kahoot, Blooket, Quizlet, and Skribbl.io in my classroom. And if you know anything about me, you know I love using digital Pixel Art activities. My students are always begging me for more. You can check out some of these here. My latest craze is using digital dice for all kinds of fun games. You can find those here. Have you ever tried Minecraft for Education? It is such a popular game among my students right now. Why not use it in the French classroom, tied into our curriculum expectations? These games are so much fun and the students love them.
I hope you have seen that even though kids may be playing a game, they are still learning French. It's a win-win for both the students and I.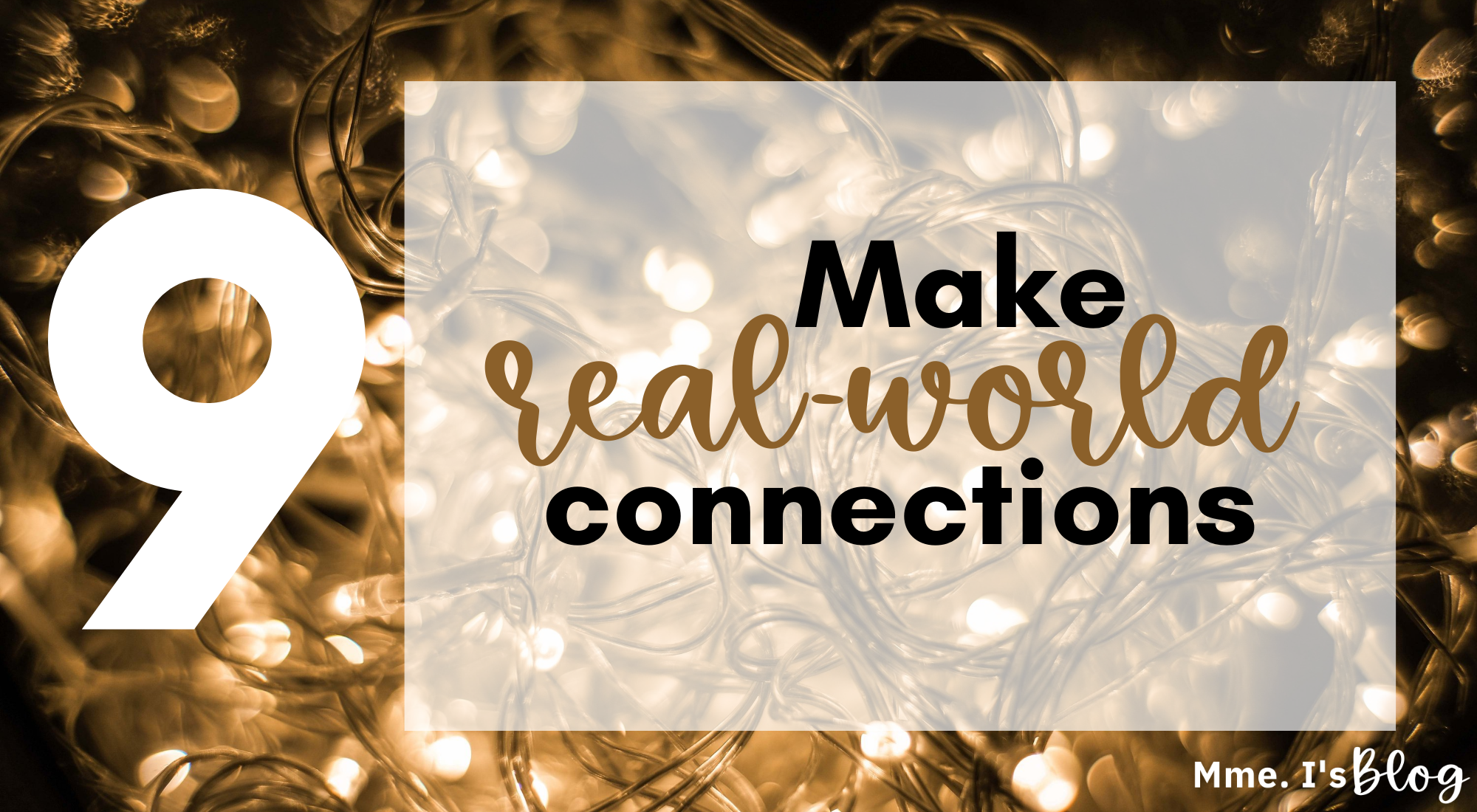 Strategy # 9: Make real-world connections.
The last strategy I would like to briefly mention is the importance of giving students real-world connections. Like I said in my last post, most of the time these students don't experience French outside the walls of your classroom. The language is not relevant to their lives and they cannot relate to it.
It is so much fun as an educator when you can make the language needs real for your students. You may have heard about the importance of authentic tasks and experiences. That's what I'm talking about here.
This may be one of the simplest things you can plan and do, or it may be one of the hardest, depending on what you're trying to achieve. You can use small authentic tasks that require students to explore news websites, for example, or cooking channels or shopping websites. You can take it a step further and set up a pen-pal exchange program where students write to native French speakers. Or further yet, plan a field trip to somewhere where your students will have a chance to communicate in French.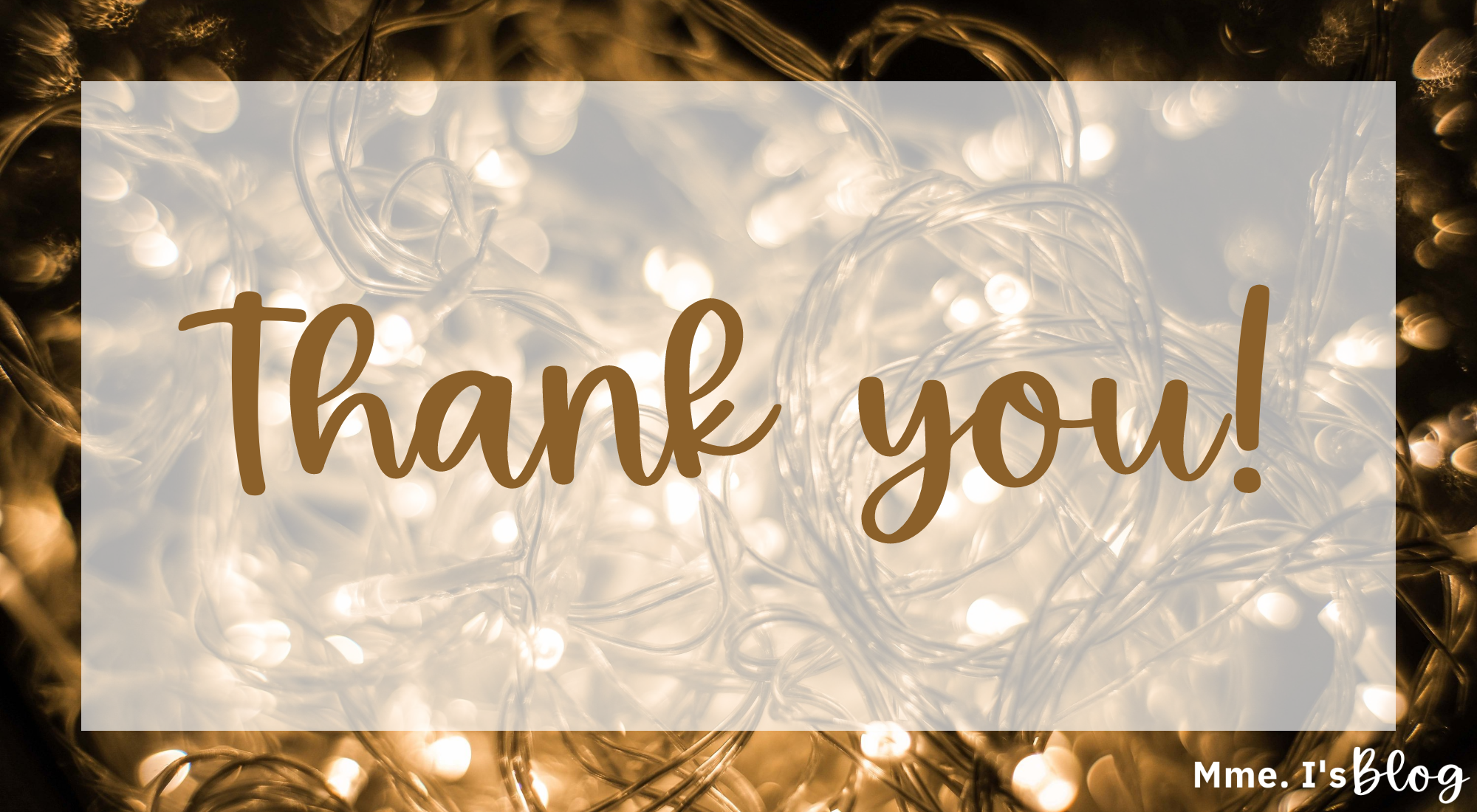 There are so many other strategies we could talk about, but I am going to end it here. I hope these strategies will help make your life as a Core French teacher easier. Thank you for following along!
At the end, I'll just say, remember that all these strategies not only benefit your students, but they also benefit you!
Have some feedback? I'd love to hear from you. You can reach me here.
Until next time,
Mme. I